(Image Ctsy: Jim Dedmon/USA Today Images)
It is early March. Spring games are right around the corner, March Madness is in full swing, and it is PEAK #RankingSZN for college football. Over the next few weeks on CFB Country, I'll be ranking head coaches in each of the Power Five conferences, starting today with the ACC.
The last two years in the ACC have been about as impressive as Tim Tebow's baseball career. After a banner year in 2016 that saw Lamar Jackson win the Heisman Trophy while Deshaun Watson brought Clemson its first national title in over 30 years, the league quickly became a one-man — well, one-team — show. Clemson has lost TWO conference games in the last five seasons — one in overtime, and another where their starting quarterback was knocked out of the game. An influx of impressive coaching hires didn't translate to much success on the field. Florida State (Willie Taggart) and Miami (Mark Richt) both made hires that were praised at the time, and neither coach lasted more than three years.
The instability at two of the league's blueblood programs, in addition to a turbulent couple of years for Justin Fuente at Virginia Tech and whatever you want to call the end of Bobby Petrino's tenure at Louisville, there just hasn't been anything resembling a worthy competitor for Dabo Swinney and Clemson in three seasons.
Things seem to be pointing in the right direction for most schools around the conference right now, however.
These rankings are heavily based on the jobs these coaches are currently doing, not a lifetime achievement award. It's about how you've performed relative to the expectations of the school, and the state of the program when you took over.
If you hate the rankings, you know where to find me. Scream at me on Twitter
ACC
1. Dabo Swinney (Trending: UP)
There's just no one in the ACC who can even think of comparing to what Swinney has built at Clemson right now. No one recruits better talent or develops said talent any better than Swinney's staff. They've won five straight conference championships, two national titles, and aren't slowing down anytime soon. Their 2020 recruiting class was the highest ranked class yet under Swinney. The best program in the conference is getting even better. Two years ago I wrote that Clemson was going to become the next Alabama. The dynasty has just begun.
2. Scott Satterfield (Trending: UP)
There's a really fun argument to have about whether UNC made the right call hiring Mack Brown instead of pursuing Satterfield last year. There is zero doubt the Tar Heels made a great hire in Brown, but the turnaround Satterfield produced in his first year at Louisville combined with being nearly 30 years Brown's junior makes it an interesting debate.
It's well-documented how much of a mess Louisville was when Satterfield replaced Petrino. I haven't seen many teams quit on a coach the way the Cardinals did on Petrino at the end of 2018. They were outscored 522-206 for the season by FBS opponents. Clemson beat them 77-16 and it felt like the Tigers took it easy on them. But in 2019, Satterfield had his team competitive from the very first quarter of the season opener against Notre Dame, and it culminated with a 38-28 win over Mississippi State in the Music City Bowl to finish the year 8-5 — with a second-place finish in the Atlantic Division to boot.
With a ton of returning skill position talent in 2020, the Cardinals might not be poised to catch Clemson quite yet, but I would be stunned if they didn't finish inside the Top 25 next season.
3. Mack Brown (Trending: UP)
I was not a believer in the Mack Brown hire. Flat-out didn't think it would work. He completely lost his touch by the end of his run in Texas. He missed on a slew of future NFL quarterbacks from within the state. He couldn't develop the ones he did recruit. How was Brown, six years removed from a relatively ignominious exit from the school where he won a national championship in 2005, going to suddenly breathe life into a school he left more than two decades ago?
Well, shame on me. Brown instantly made the Tar Heels fiercely competitive. He hired a dynamite staff that helped UNC become a force on the recruiting trail. Flipping in-state product Sam Howell from Florida State on his first Signing Day may have been the most important move he'll ever make as the Tar Heels' head coach. Howell threw for 3,641 yards with 38 touchdowns and just seven interceptions as a freshman. He'll enter 2020 as one of the five best quarterbacks in America. The 2020 recruiting class was ranked in the top 20. The 2021 class is currently in the top five.
The only reason I didn't put Brown ahead of Satterfield was some of the questionable late-game decisions in 2019 that either cost Carolina or nearly cost them a few more wins. Whether it was kneeling on fourth down against South Carolina, icing your own kicker for no apparent reason at Virginia Tech, or a handful of other puzzling moves, Brown had the kind of head-scratching moments that get overlooked in year one of a rebuild, but become inexcusable once the expectations are 10-wins and a division title. That's the bar in 2020 for UNC.
4. Dave Clawson (Trending: UP)
It took a few years, but Dave Clawson has built Wake Forest into a respectable program in the ACC. That might not sound like an enormous compliment, but in the case of the Demon Deacons, it absolutely constitutes one. If Wake wins at least eight games next year, Clawson will have the highest winning percentage of any Deacons' coach since Peahead Walker in the early 1950's.
LET ME REPEAT.
PEAHEAD WALKER.
brb buying this book: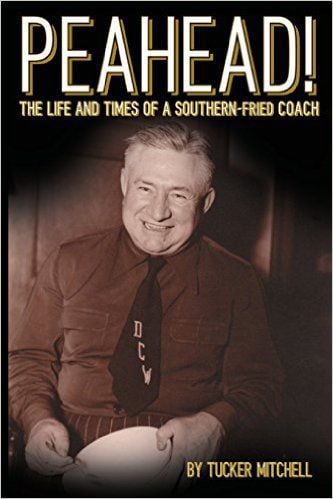 Anyway, Wake Forest had the makings of a 10-win team this season until injuries derailed their season. Sage Surratt was one of the best receivers in the league, and Scotty Washington was a tremendous compliment. Both went down with season-ending injuries in early November, and it cost the Deacs in road losses to Virginia Tech and Syracuse, plus the bowl game against Michigan State. Clawson will have to reload around junior quarterback Sam Hartman next season after Jamie Newman transferred to Georgia, but with Surratt back in the fold, Wake should be dangerous again in 2020.
It was a mild surprise Clawson wasn't mentioned for many bigger jobs this off-season. I'll be flat-out stunned if he isn't heavily courted over the next few years when major openings pop up.
5. Bronco Mendenhall

(Trending: UP)
Virginia football was in shambles when Mendenhall left BYU for Charlottesville in 2016. After losing to Richmond in his first-ever game with the 'Hoos, Mendenhall's first season was a disastrous one ending with a 2-10 record. Since then, Virginia has made three consecutive bowl games and won the Coastal Division in 2019. Mendenhall has developed talent on both sides of the ball better than anyone since George Welsh roamed the sidelines at Scott Stadium.
I'm very curious to see if he can build on last year's run without do-everything quarterback Bryce Perkins. Without Perkins, Virginia likely misses a bowl game last season. He was that important in a number of close wins. Brennan Armstrong will take his place, and he's drawn comparisons to Taysom Hill from Mendenhall himself. If Armstrong can live up to those sort of expectations, the Cavaliers will go bowling for a fourth consecutive year. Maybe a more important question: can they beat Virginia Tech for a second time in a row?
6. Justin Fuente

(Trending: DOWN)
Three years ago, Fuente would have ranked second on this list with his stock climbing. You couldn't have scripted a much better start to his tenure in Blacksburg, but a rough couple of years has left a lot of Virginia Tech fans wondering if Fuente is still the right guy for the job.
I'm in the camp that Fuente is capable of building Virginia Tech into a consistent nine or 10-game winner. That doesn't change the fact he has a lot of pressure this coming season to prove it. There was a lot more to the transfer portal drama over the last two years (only Arkansas has seen more players exit the program in that span) than meets the eye. It appears that a lot of those concerns have stabilized — despite some pretty tone-deaf comments last month about not taking players back who enter the transfer portal — and the Hokies have the pieces in place to contend for a Coastal Division in 2020. If they do, Fuente will find himself much higher on this list a year from now.
7. Mike Norvell

(Trending: UP)
Norvell took Memphis to even greater heights than Justin Fuente, culminating in a Cotton Bowl berth this past season. I nearly put him ahead of Fuente here, but I think Norvell has to prove he can win in the Power Five before I elevate him to that level. Fuente turned around a moribund Memphis program. Norvell, meanwhile, made a good situation great. I tend to think what Fuente did was more impressive.
I love that Norvell was able to convince Marvin Wilson and Tamorrion Terry to come back to school. That will help him in year one, but the bigger concern is the offensive line. This is almost hard to believe, but in the past four recruiting classes (including the class of 2020), Florida State has signed TWO offensive linemen rated four stars or higher by 247Sports. Incoming freshmen quarterback Chubba Purdy has the potential to have a Sam Howell-like impact for Norvell in 2020, but if they can't resurrect an atrocious offensive line, it probably won't matter.
I like the Norvell hire. It looks better than hiring Taggart off a 7-5 season at Oregon three years ago. Until the results start coming in, Norvell sits in seventh on this list.
8. David Cutcliffe

(Trending: DOWN)
I feel a little dirty dropping Coach Cut all the way to eighth, because I think the world of him as a coach and as a person. There isn't a friendlier, more down-to-earth guy in the profession, and he's carved out an incredible niche keeping Duke football respectable during his 12 years in Durham. The Blue Devils peaked in 2013 with a 10-4 record and an ACC Coastal championship, but even since then it's still been a strong run by Duke's standards. They are 41-35 since that ACC Championship Game appearance.
Last season was a puzzling one. Duke obliterated Virginia Tech in late September, only to go 2-6 the rest of the season. Late-game collapses against Pittsburgh and North Carolina was the difference between 5-7 and 7-5. They were blown out 49-6 by an awful Syracuse team. With an influx of younger and proven coaches into the Coastal Division, it's fair to wonder if Cutcliffe's time is starting to get short at Duke. He's earned the right to leave on his own terms, but at 65 years old, that time might not be too far off in the distance.
9. Pat Narduzzi

(Trending: STEADY)
The best thing Narduzzi has done for Pittsburgh is bring stability to a program that severely lacked it prior to his arrival. They did claim the ACC Coastal in 2018, but it was with a 7-5 record overall and the Panthers were mauled by Clemson in the conference title game.
Narduzzi came to Pittsburgh with a reputation as a defensive mastermind from his days at Michigan State. Since taking over the Panthers, his defenses have ranked 36th, 75th, 65th, 106th, 57th respectively in scoring. He had some early success mostly on the backs of players he inherited (James Conner, Nathan Peterman, Tyler Boyd), but he does have a team coming back next season with the pieces to challenge North Carolina and Virginia Tech. Defensive tackle Jalen Twyman is back for his junior season after 10.5 sacks (third in the ACC) and 12 tackles for loss. His highlight reel is very very fun. Most of the weapons on offense return as well.
One interesting stat on Narduzzi's tenure so far. He's 38-29 overall, winning 56.7 percent of his games. In the 15 seasons prior to his arrival, the Panthers won 56.9 percent of their games. In terms of modern-day expectations for Pittsburgh, Narduzzi is neither exceeding nor falling short of that standard.
10. Dave Doeren

(Trending: DOWN)
It bodes well for the ACC that Doeren is all the way down at tenth on this list. I don't think Doeren has proven to be an elite coach, but all things told he's done good things in his seven seasons at State. If you take out a 3-9 campaign in his first year, the 'Pack are 44-33 overall in the last six years. Doeren has produced a surprising number of impressive NFL players, including Bradley Chub, Nyheim Hines, Joe Thuney, Jacoby Brissett, Jaylen Samuels, Garrett Bradbury, and Ryan Finley.
That's the optimistic way to look at Doeren. The pessimistic way is to look at the pros he had on the roster over the last five years and wonder why he doesn't have more than one regular season with at least nine wins to show for it. Last season was always going to be a pretty substantial rebuild with the talent he lost after 2018, but even with that in mind, the 'Pack were flat-out non-competitive at times towards the end of the season. Injuries played a major role in that, so it's safe to give Doeren a minor pass for the struggles in 2019.
Mack Brown's resurgence in Chapel Hill is going to make a lot of State fans very anxious if they can't get back to playing like a borderline Top 25 team quickly. Doeren knows what he's doing, but it feels like the program is teetering on the edge of mediocrity. 2020 is a huge year for them.
11. Dino Babers (Trending: DOWN)
Nobody's stock plummeted more in the past year than Babers, who went from one of the hottest coaching candidates on the market to a disastrous 5-7 season in 2019. The Orange were a trendy pick to upset Clemson early in the year before a humiliating 63-20 loss to Maryland the week before. Three of the Orange's five wins last season came against Liberty, Western Michigan and Holy Cross. Another came against a severely depleted Wake Forest team at home in overtime.
Babers may have waited just a little too long before jumping ship from Syracuse. I loved his name for the Miami opening, among others, after a 10-3 run in 2018. Unfortunately he's now four years in at Syracuse and has only one winning season to show for it. He had terrific runs at Eastern Illinois and Bowling Green prior to 'Cuse, but each of those stints lasted just two years. He has not proven that he can build and sustain a winning culture as a head coach. I'm not saying he is Willie Taggart, but there is a very Taggart-ish feel to his track record.
12. Geoff Collins (Trending: UP)
I would love to rank Geoff Collins higher than this but it would be entirely based on my own projection that Georgia Tech will one day soon be in a much better place. Collins' track record has yet to jump off the page at you when it comes to wins and losses. He was 15-10 at Temple with two straight bowl appearances, and walked into an absolute mess at Georgia Tech last year before going 3-9 for his debut.
Collins is one of the most energetic head coaches in America and an absolute force on the recruiting trail. It's obvious to anyone who follows Georgia Tech that the transformation from Paul Johnson's triple option to well, a normal football scheme, is going to take several years across multiple recruiting classes. Collins reminds me of Buzz Williams in a lot of ways. Both are tremendous at creating buy-in from their players when there's not much to buy into. I have a feeling it won't be long and Collins' name will be much higher than this.
13. Jeff Hafley (Trending: TBD)
Boston College made a great hire in plucking Hafley from Ryan Day's coaching staff at Ohio State. A longtime NFL assistant but also a savvy recruiter in college, Hafley is young (39 years old) but very well respected throughout the coaching ranks at both levels. He did wonders to resurrect Richard Sherman's career in San Francisco, and last season helped coach arguably the best secondary in America at Ohio State.
He's got a tough job now. Jeff Jagodzinski was able to win pretty big at Boston College, but it's been a decade since the Eagles were truly relevant in the conference race. Recruiting the northeast when you're in a predominantly southeastern conference is a major challenge. The key for his success will be to develop 2 and 3-star kids into 4 and 5-star players. Think Dantonio, Patterson, Beamer. That's the blueprint for success at Boston College.
14. Manny Diaz (Trending: UP)
It's hard to imagine Diaz's first season at Miami going any worse. After a highly successful three-year run under Richt as the Canes' defensive coordinator, Diaz took over the program and oversaw an incredibly turbulent 6-7 campaign that included losses to 3-9 Georgia Tech, Florida International, Duke and a 14-0 shutout loss to Louisiana Tech in the Independence Bowl.
Diaz shook up the coaching staff, parting ways with respected offensive coordinator Dan Enos in favor or Rhett Lashlee from SMU and formerly of Auburn. He landed the 2018 American Athletic Conference Offensive Player of the Year D'Eriq King, and the 2019 AAC Defensive Player of the Year in Quincy Roche on the transfer market.
Disciplinary issues were a major problem for Miami last season. According to reports after the season, a lot of it stemmed from the quarterback room. Diaz needs King to be a calming presence in 2020, and hopefully bring some of that record-setting talent from Houston down to Coral Gables as well.
Diaz seems like a great guy. He's credited with coming up with the turnover chain. Miami has forced more takeaways in the last three years than any other team in the FBS. At some point though, you have to be less about chains and more about trophies.